Weekly Update #3
This week I worked on improving my systems and building the product faster.
Hello, and thank you for subscribing to my weekly update! I am very grateful to share this journey. I believe a path allows for financial freedom without winning the startup lottery.
My goal is to replace a salaried job with a portfolio of revenue streams that make $1 million a year.
Quarter 4 Goals
🔲 Launch my SaaS (Wordings.io)
✅ Have 250 unique readers on my blog (419)
✅ Increase Twitter followers to 250 (264)
Numbers
Learned
Tweeting is reusing a lot of content in different ways.
Spend time building the proper fundamentals, but don't make it perfect.
Iterating means shipping something worse at first.
Threads are the bread and butter of Twitter growth
Focus my audience to three core pillars. Mine are software development, solo engineering, and building an internet business.
Progress
...and then the third.
 — Holes by Louis Sachar
Product
I'm building a SaaS that manages localization strings and allows non-engineers to write the copy for cloud apps.
It's called Wordings.io.
I've spent too much time tweaking my components instead of building features. I'm going to change my internal strategy from now on:
Build the feature or component in less than 30 minutes
Use it and move on
When I have some free time, I revisit it and improve it.
I love tweaking and playing with the app; it's why I'm making my own, but I need to ship something of value. The balance has been too much tweaking and not enough shipping. As a solo engineer, I need to be okay with shipping and fixing some bugs later.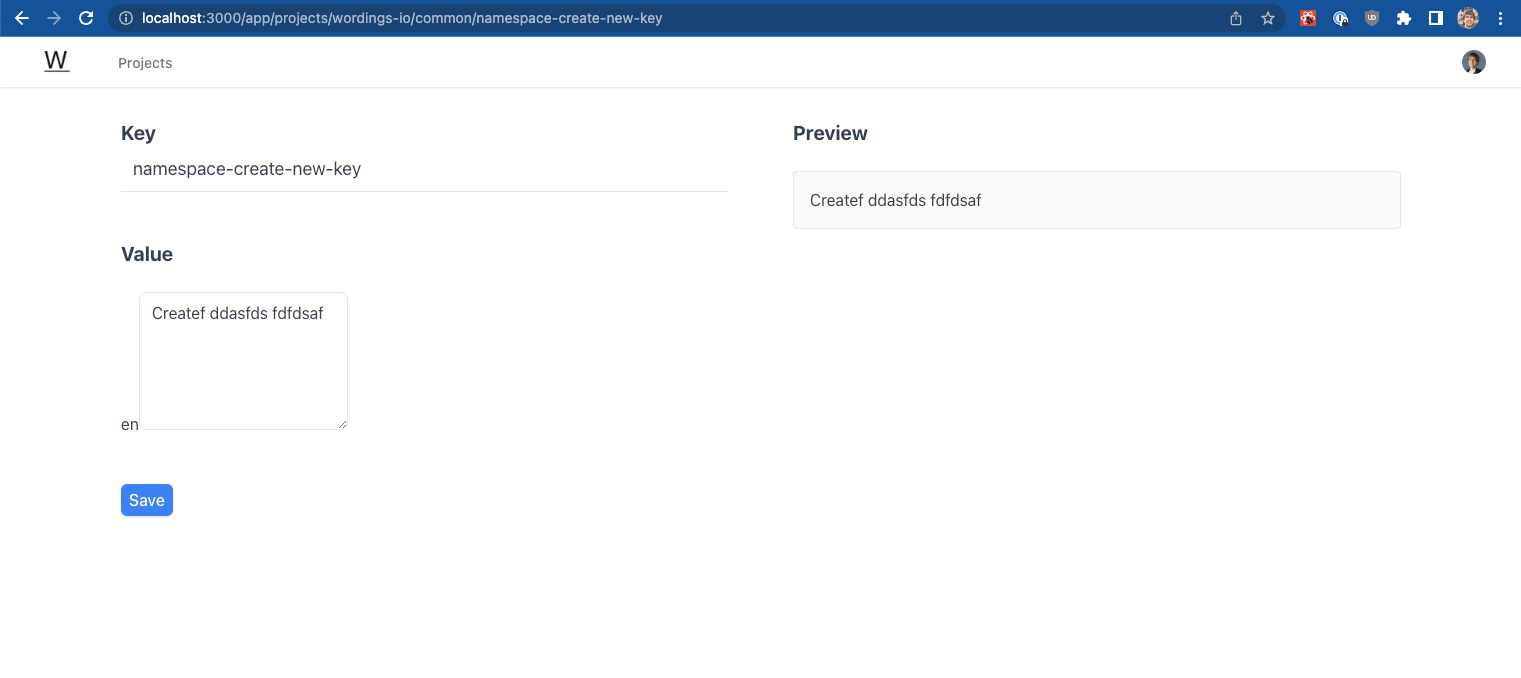 I showed off the project to my first beta customer. It was way too early to do this. I know it was. I felt it was during the demo. Even though I cringed a lot and said sorry often, showing the project helped me understand where the roughest parts were—the things I needed to fix next. So even though I felt like I wasn't showing my best work, I plan to do it again next week.
It also was constructive to listen to her talk about some of her workflows. For example, when she writes Markdown, she will write it and then copy it into VS Code (not a developer!), so she can preview it and make sure it looks correct. All that should be done in my app! I had no idea she was doing all that to preview Markdown.
Consulting
This week I submitted my proposal for the app migration and custom portal project. After talking, I didn't have a clear idea of the budget, so I offered a price of $35k. She spoke with the team and said their max budget was $30k.
Pricing these things is tricky for me. I don't want to leave money on the table (it's my business, after all), but I don't want to push for higher prices constantly.
She suggested we break the project into two phases. Phase 1 will focus on understanding the app migration requirements and building a prototype of the portal. This will give me time to understand the scope of migrations. Then phase 2 will finish it.
After chatting, I priced phase 1 at $3,000 and suggested phase 2 will fall between $20k and $27k.
I know I can deliver what they want and want them to feel they got great value from working with me. I need to understand the migrations, but I imagine the final price will fall between $20k-$27k. I don't want to go up to the max budget if I can avoid it.
Delivering under budget and earlier than expected is worth a lot more to me than a few thousand dollars.
Similarly, another friend contacted me with some Facebook analytic questions and tweaks. After doing some research, we hopped on a call and managed to update all the services in one hour. I mentioned that I was doing this without billing, and she replied that she certainly expected me to bill for this time.
I didn't.
It's better to be free than cheap.
The task fell into the category of "too cheap to bother with." I probably would have charged $500 for the hour, but that's so little compared to the $25,000 I'm making with the other client. This way, she got exactly what she needed at a great price (free!), and we keep our relationship going.
Website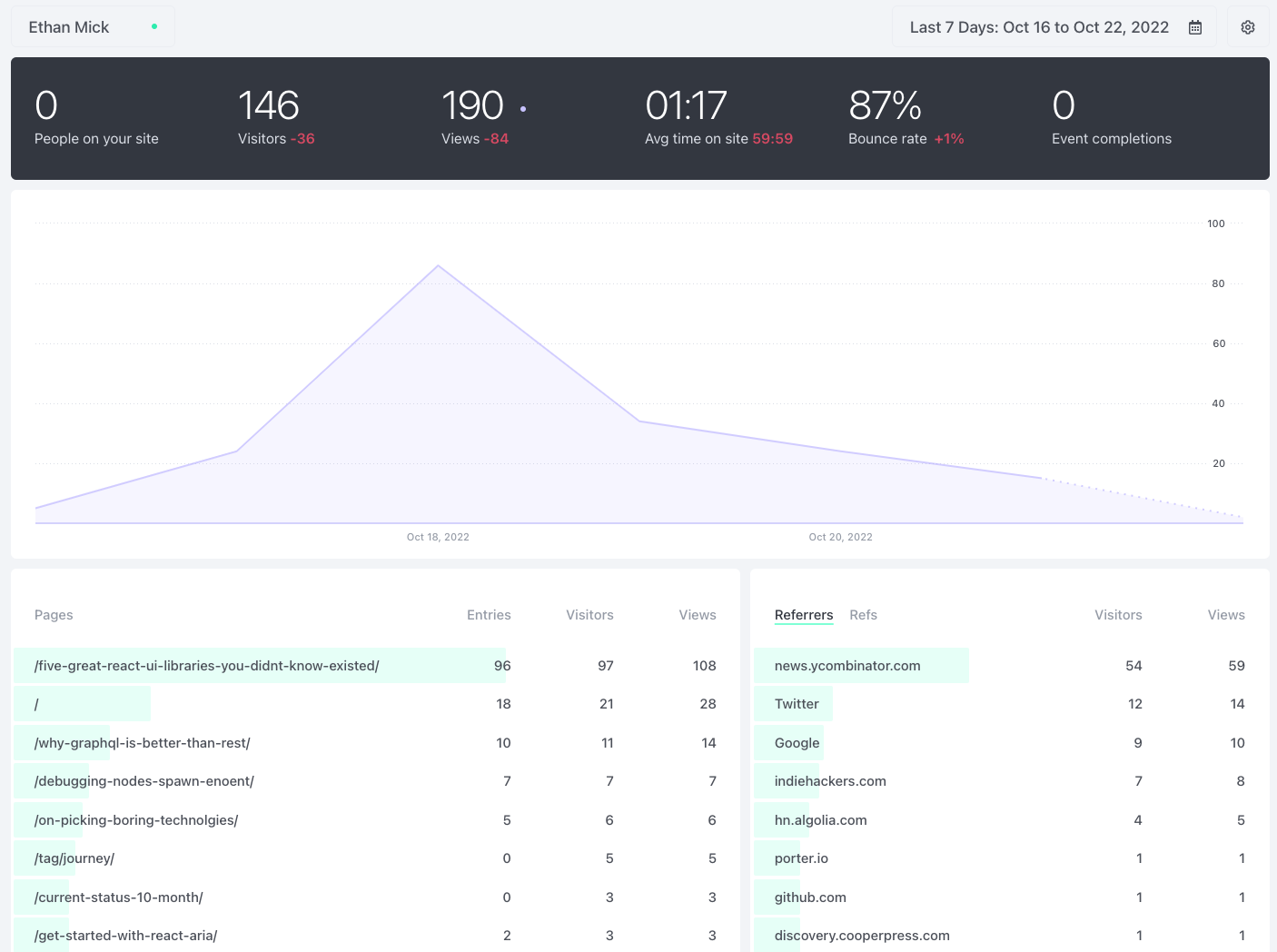 This week was worse than last because I did not post my second blog post to Hacker News. It wasn't much worse, just a bit across the board. Twitter has been driving some more views, which is good.
I'm starting to feel some pressure to generate content. Two blog posts a week means I need to have done something that warrants a blog post. With a 9-5 job and a new baby, sometimes that's hard. However, I don't feel that my blog posts are delivering a ton of value at the current moment.
However, I have a plan to work on this issue.
Twitter
Twitter has been a little crazy. The course by HypeFury has been helpful, but it's also throwing me from the small routine I had put into place. The course teaches me how to tweet better and will give me 1000 new followers in 30 days.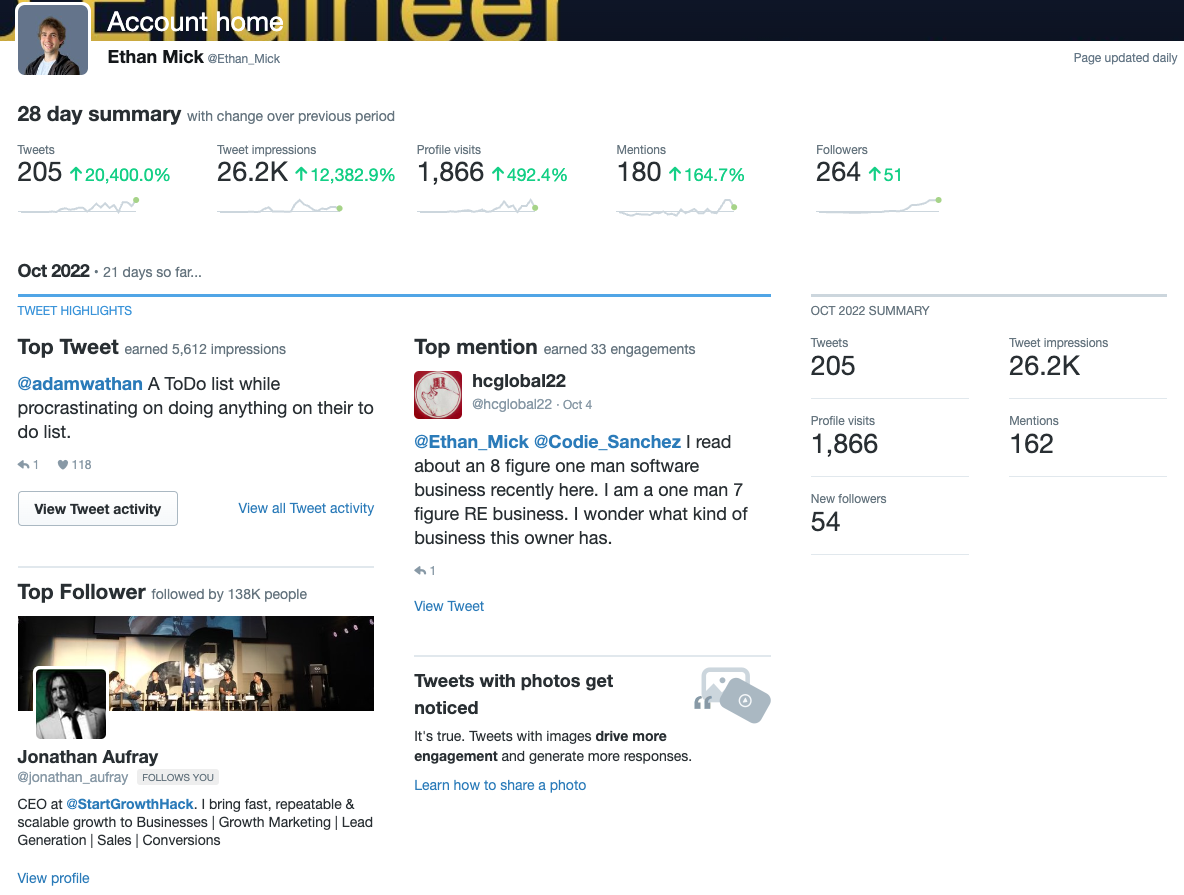 I've reached my goal of 250 by the end of the quarter. I've also seen how some people in the class have gone viral and gained hundreds of followers in a moment. It's very cool! Many of these people are talking about more general things than solo engineering, so I can't just replicate what they do. I need to learn and build it into my own process.
Which looks like this: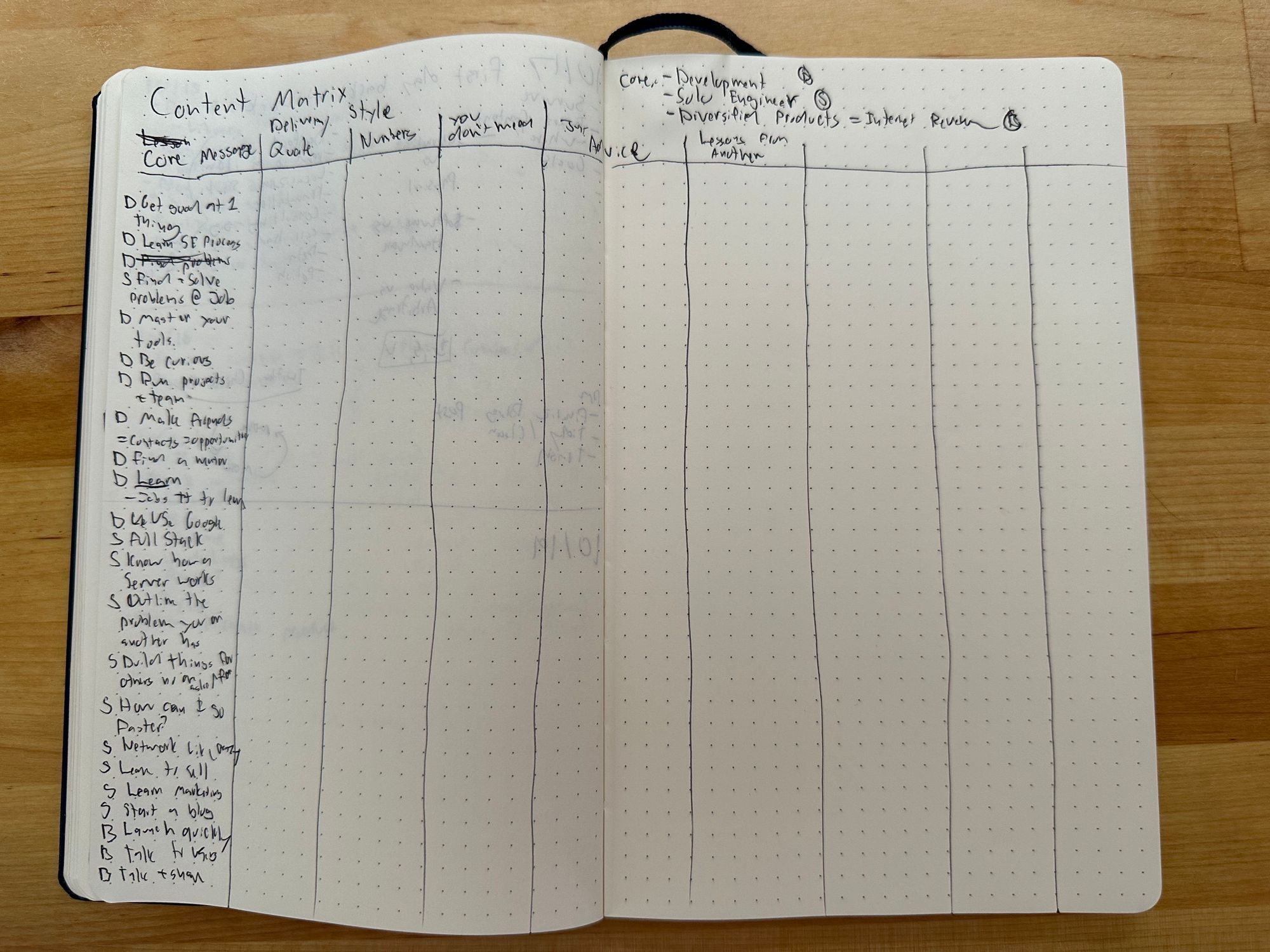 The above is the content matrix I will be building this weekend. Because Twitter is saying small things often, it is essential to repurpose content. The matrix will help organize my thoughts. How it works:
Start with a core message. What would I tell myself two years ago?
Then, rewrite that core message into several styles, such as stats, quotes, "you think you need," advice, pictures, etc.
Schedule them over the following weeks.
I also will expand upon some of the ideas with longer threads that deliver a lot of value. Those threads should have the same content as my blog posts.
I need to talk less about myself, what I'm doing, and how I can help you get to where you want to go (which is where I am right now; that's why you follow me).
Wrapping up
This week was the busiest yet. I returned to my full-time job after parental leave and am juggling many more tasks. I'm still building the systems I need to make things go smoothly. Each week I'm learning more about how those systems should work and how to improve them.
I can't wait for next week!
---
If you liked my newsletter, the best thing you can do is share it and my website. You can also follow me on Twitter. It means a lot. Thank you!